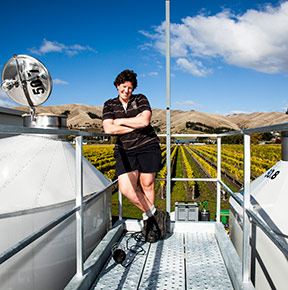 Rebecca graduated from Lincoln University with a B Com Hort and completed a post-graduate degree in winemaking at Adelaide University (Roseworthy).
Rebecca began her winemaking career in 1997 working for Coopers Creek for three years. She then spent two years working as a cellar hand for various Marlborough wineries before heading overseas where she worked in the Napa Valley (2002) and then Alsace (2003).
Rebecca joined Lawson's Dry Hills in 2004 before heading to France. Her first winemaker's role was with Domaine de La Vahnale and Domaine Croix Maro in Languedoc, France in 2005. She then returned to Lawson's Dry Hills where she brings great energy, enthusiasm and experience to the winemaking team.
Rebecca is one of the winemakers at Lawson's producing all of Paua Bay's wines. Rebecca is married with two young children.